analyzing content and data compliance
Our roots
In 1993 Infrastructures for Information (i4i Inc.,) set up shop in downtown Toronto, with an idea to revolutionize the way information and content is organised, created and delivered.  Our roots are firmly cemented in the use of open standards to structure and publish information. Today, that dedication to understanding standards and desire to create world-class structured content applications is the foundation for all our solutions.
The vision
We believe that the key to your success lies in creating and managing consistent data and information within your content, across products, jurisdictions, and divisions of your organisation. We design innovative Structured Authoring & Content Solutions to assist the life sciences industry with their product documentation and regulatory information management. Focusing on developing applications that increase efficiency, consistency and that support compliance through innovative, cost-effective and reliable technologies.
It's what we do
We've been doing this a long time, and it shows. A history dedicated to innovation and rich in accomplishment, i4i has been delivering leading XML and Structured Authoring Solutions for over twenty years. Our experience gives us confidence in handling all implementations with a proactive and professional approach. More importantly, we give you confidence that work will be done on time, on budget and with results that deliver.
With industry-leading technologies driving our platforms, we deliver structure and compliance to the life sciences industry. We are at our best when challenged to be bold and figure out new ways of doing things. So bring us your content challenges and let us show you new ways to structure them.
Global Labeling
Are you ready to 'Go Global' with a structured content solution?
Our global labeling platform enables your team to work smarter. This platform combines our intelligent structured authoring tool with a robust set of dashboards offering a suite of content creation, collaboration, and management features.
Store your product labels in a central repository with end-to-end label compliance and alignment, content reuse, translation management, health authority submission formatting, and regulatory information integration—across all jurisdictions.
And all within an intuitive user interface.
European Labeling
Take full advantage of i4i's structured content authoring and management solution to achieve European regulatory compliance.
Our EU labeling platform is the result of the customization and optimization of i4i's ALiCE technology offering a suite of modules that deliver boundless possibilities for all of your content. Our metadata rich structured content authoring and lifecycle management solution allows you to easily manage the complete set of labeling content, including your CCDS and create compliant QRD files ready for submission to the Health Authority.
Using a master document model, content reuse and applicability minimises duplication ensuring greater consistency, and more meaningful cross-document and cross-jurisdictional content analysis.
IDMP
With i4i's industry-leading structured content solution, you can capture and manage key medicinal product information in your EU and product documents. Our tools include templates with semantically marked content to help you achieve and maintain Identification of Medicinal Products (IDMP) compliance in documents including IBs, SmPCs, and CMCs.
Additional tagging features with controlled vocabulary make it easy for an author to mark, track, and compare tags and their sources. An IDMP dashboard manages the process throughout the evolving life-cycles of your content.
SPL
SPL – we've got this! Since 2004 our market-leading Structured Product Labeling (SPL) solution has been the right choice for all your SPL needs. At SPL's inception, i4i joined the technical leadership team, helping define and develop its guidance. Today, we continue to be involved as a key member of the SPL Working Group, where our XML knowledge and industry expertise supports the FDA's SPL initiative.
Whether you have a single user or many, our SPL Solution or SPL Direct conversion and submission service ensure you are FDA regulatory compliant.
Looking for more? Download the data sheet for further information about our SPL solutions.
SPL DIRECT
A solution to today's regulatory issues, SPL DIRECT provides SPL creation and submission services directly to the FDA or your inbox. Our team of regulatory specialists is ready when you need them, regardless of the kind of products you manufacture or distribute. We can help manage the entire process or fill in any area you'd like help with, transforming your labels from any source format to SPL. The end result is a compliant set of labels with content that can be repurposed to various stakeholders across your organization.
SPL DIRECT also offers XML conversions for the ACA6004 submissions (drug sample reporting).
Download the data sheet to learn more about our SPL Direct services.
XML PM
i4i has worked hand-in-hand with Health Canada as it created the Structured XML Product Monograph (XML PM). XML PM is Health Canada's implementation of HL7's Structured Product Labeling and is the new submission format that replaces the PDF format of the Pristine Product Monograph on Rx products.
Our flagship A4L solutions support the XML PM format. These solutions provide a complete structured document authoring and collaboration cycle that includes translation management and produces XML documents that conform to Health Canada's XML PM specification.
Structured Content
All of our solutions begin with our core products :
A4L and ALiCE.
A4L | Structured Content Authoring in Microsoft Word
The desktop solution for all your structured content authoring needs and offers a configuration explicitly designed to meet all SPL requirements. Use the complete, familiar Word feature set in a fully functional structured content authoring environment.
ALiCE | Manage the Full Lifecycle of Structured Content
ALiCE extends the desktop authoring platform to include document management and publishing, submission tracking, review cycles, content reuse and repurposing, and more. It is designed to meet the content challenges—and needs—of the life sciences industry, keeping drug product content and data consistency and regulatory submissions top of mind.
Client Services
At i4i our goal is always to have our complete client list serve as our reference list.
Our support team has a clear understanding of our clients' processes, challenges and the solutions required to address them.
The team is comprised of regulatory specialists and technical experts to provide our clients with an unparalleled support experience.
For support of your i4i products:
Log on to the client support portal
Training
Training is at the core of our clients' success. Our team of product specialists ensures that your organization experiences a smooth transition with a focus on user adoption for all our implementations.
But it doesn't stop there. We offer ongoing; upgrade, refresher, and new user training both online and in-house to best meet the needs of your organization. We believe that when you invest in our solutions, you get a full return on that investment.
With solutions built in familiar user interfaces such as Microsoft Word, success is the only option for your users.
Implementation
Experienced professionals and regulatory and technical specialists guide each implementation, deploying a set of services designed to provide a first-class client experience with easy user adoption in mind:
Discover
Assess
Strategy & Plan
Solve
Implement
Migrate
Manage (ongoing training & support)
August 2023
It's here!
Health Canada has released the updated XML PM Guidance and opened the consultation period for final industry feedback, which closes on November 5, 2023.
Our software solutions and services have been updated to comply with the guidance and we're ready for you.
If there is anything about the XML PM requirement or the Health Canada feedback process that we can assist you with, please don't hesitate to contact us at contact@i4i.com.
Information on how to participate is available online in English and in French.
March 14, 2023
When time matters—take matters into your own hands!
If you have a time-critical label update, be fully SPL submission compliant in minutes—authored, validated, and published with A4L Professional.
A4L Pro is used by hundreds of your industry colleagues either for all their SPL submission needs or to augment their current approach for time-critical submissions. And as an A4L Pro user, you have access to i4i's industry-leading regulatory specialists, providing you with any FDA/SPL/gateway guidance you may need.
To see A4L Pro in action, please view this short video. We'll walk you through a major label revision that's submission-ready in next to no time.
Let us know if we can help!
May 2021
On June 14, 2021, Health Canada's XML PM implementation will enter phase II.
Phase II launches XML PM into full production. At launch, the new validation rules go into effect, and the new Controlled Vocabulary website will be available. Please note, submissions of XML PMs are still voluntary during Phase II. Mandatory submissions to begin in Phase III.
For further information about Phase II, please contact us at support@i4i.com.
And, look for our upcoming webinar—XML PM Fundamentals Part II—arriving in early June with an up-to-date look at structured Product Monographs.
August 17th, 2020
Canada's first Product Monograph in the XML PM format was submitted to Health Canada on August 17. i4i worked closely with the Market Authorization Holder to finalize the XML PM included in their eCTD submission. This submission marks the first XML PM received for an official filing.
XML PM is a key component of Health Canada's initiative to improve the accessibility and quality of drug product information for Canadians. As of June 1, 2020, the initiative moved into the Production Testing phase. Open voluntary submissions will be accepted this fall, with mandatory submissions targeted for Spring 2021.
i4i is a world leader in structured content solutions. Connect, control, track, and analyse your document content with intelligent reuse, rich data capture, and jurisdictional alignment (XML PM, SPL, CCDS, QRD, IDMP, etc).
We're here to help you transition to Health Canada's new 2016 and XML PM requirements! Contact support@i4i.com.
See the full article.
January 2020
Health Canada announces updates for Rx submissions. Are you ready?
Key dates: April 1st & June 1st, 2020
On April 1st, XML PM submissions will be accepted, becoming mandatory early in 2021. On June 1st, the 2016 Guidance comes into effect. Click here to view the HealthCanada announcement.
i4i is here to help with a unique opportunity—with one effort, be both 2016 and XML PM ready at the same time, so you can meet new compliance requirements as they unfold.
A4L Pro, i4i's industry leading tool for USFDA SPL submissions, has been extended to cover the new HealthCanada requirements—publishing both 2016 and XML PM in both French and English. Either Do-It-Yourself or outsource to i4i's regulatory team (who also use this great tool!).
October 2023
October 3-5, 2023 – i4i at the RAPS Convergence 2023 in Montreal
This October, visit us at the 2023 RAPS event in Montreal.
This event is a premier forum for regulators and industry to update their knowledge of local and global labeling-related policies and examine the impact of changes on regulatory compliance.
Do you have questions about XML PM, SPL, or how Structured Authoring can streamline the content process across your organization? Come chat with our industry experts at Booth 334.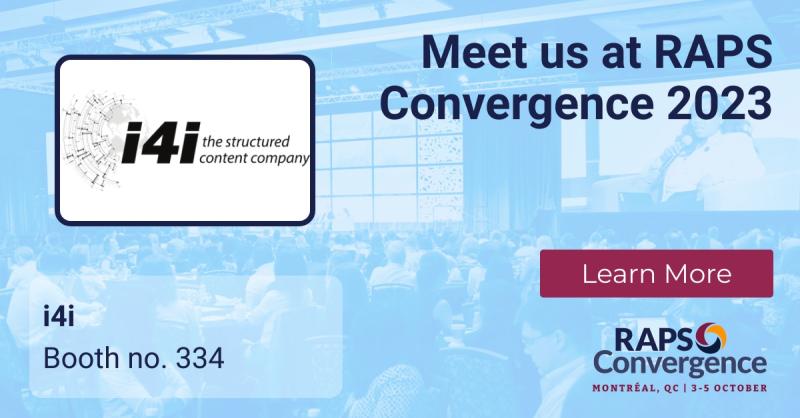 June 2023
June 1, 2023 – Join i4i at the CAPRA Symposium
On June 1, i4i will be presenting at the 2023 CAPRA Symposium. This symposium is a one-day in-person event that will share updates about XML PM, REP, eCTD v4, and other key aspects of the evolving electronic regulatory landscape in Canada. Come join the conversation with us.
This year, we're presenting our findings from working with industry and Health Canada throughout the development of the new XML PM standard. Do you have questions? Ask us. Whether about Health Canada's XML PM; content alignment between the United States, Canada, and globally; or how structured authoring will streamline the content process across your organization—at i4i, we're here to help.
And drop by our exhibit booth to chat, too. We look forward to seeing you there.
For further details, please visit the CAPRA Event website.
October 2022
October 18-19, 2022
i4i is participating in this year's DIA Annual Canadian Meeting, which is once again a live event!
Come meet with us in person at Booth 4.
We're here to discuss your needs for Health Canada's XML PM initiative, US FDA SPL compliance, and global labeling alignment (Canada, US and beyond).
See you at the conference!
October 2021
October 19-21, 2021 – Join i4i at the Canadian DIA Event
The DIA Annual Canadian Meeting brings together people from the Canadian life sciences to discuss the continuing development of biopharma and devices, and Canada's broader role in global healthcare product development.
i4i is again joining the conversation at this year's DIA Canadian Annual Meeting. This year, we're presenting a "Coffee Corner" webinar on how Canada is taking part in the growing global movement to strengthen patient health and safety via structured content by way of XML PM – the structured product monograph.
Do you have questions? Ask us. Whether about Health Canada's XML PM; content alignment between the United States, Canada, and globally; or how structured authoring will streamline the content process across your organization—at i4i, we're here to help.
Come visit our virtual booth, chat with our industry experts, and join our Coffee Corner webinar.
See you at the conference!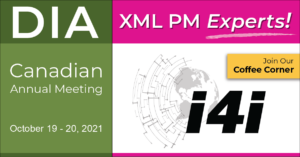 February 2020
February 10-12, 2020 – i4i joins the DIA RSIDM in North Bethesda
The DIA's annual Regulatory Submissions, Information, and Document Management (RSIDM) Forum is the perfect place to discuss metadata, structured documentation, and the alignment of regulatory and submission information—all of which i4i excels at. If you'll be attending this year's RSIDM, come and connect with our team at the i4i booth, #210!
If you're looking for an intelligent structured content solution, interested in experiencing a demo, or just want to learn more about what we do, drop us a line and we'll get back to you as soon as we can.
Call us
t. +1 416.504.0141
f. +1 416.504.1785
Email us
For general inquiries: info@i4i.com
For product inquiries: sales@i4i.com
For website feedback: webmaster@i4i.com
Find us
720 King Street West
Suite 805
Toronto, Ontario M5V 2T3
You're an individual, a unique personality. You have skills and abilities like nobody else and you're ready to let them shine.
At i4i, our people are at the heart of our business and success. We are innovators, engineers, developers, and problem solvers; we're creative and dedicated. We build, design, and refine. Together we work to create first in class software solutions.
i4i is always looking for talented, fun, diverse individuals to join our team. So, if you're a developer, a quality assurance wizard, or a technical writer—or maybe you have a way with people and client services is your thing—we want to hear from you. Oh, and if you have mad skills in pumpkin carving, gingerbread house building, or frosty festive beverage mixing, be sure to note that down too.
Want to work with us? Click the careers button to see current opportunities.
…or take a chance and send your resume to hr@i4i.com.